19th KIAF announces a team of Designers, Art Directors, Directors and Founders of leading design studios and agencies from Iceland, Spain, Germany, Georgia, Ukraine, Russia, the United Arab Emirates and the United States.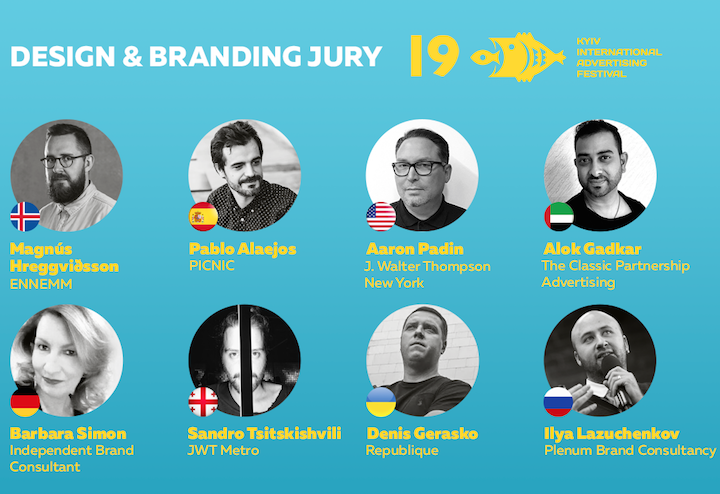 Meet the professionals who will evaluate cases in the Design & Branding competition:
Magnús Hreggviðsson, Graphic Designer, ENNEMM, Island
Pablo Alaejos, Founder and Chief Strategy Officer, PICNIC, Spain
Aaron Padin, Head of Art & Design, J. Walter Thompson New York, USA
Alok Gadkar, General Manager & Executive Creative Director, The Classic Partnership Advertising, UAE
Barbara Simon, Independent Brand Consultant / Creative Director, Germany
Sandro Tsitskishvili, Senior Art Director, JWT Metro, Georgia
Denis Gerasko, CO-Founder, Republique, Ukraine
Ilya Lazuchenkov, Managing Partner, Plenum Brand Consultancy, Russia
In the design competition, the main emphasis is on visual mastery of communication solutions. Entries should demonstrate how, through design, the brand was able to convey key messages to the consumer. We also draw attention to the new category INNOVATION IN DESIGN, submitting work to which the participant should demonstrate new ideas, ways or methods of execution of design that expand the boundaries of the industry.
Earlier Film & Out of Home, Film Craft, Media, Branded Content & Visual Storytelling, Print & Publishing, Radio & Audio та Advertising Campaigns and Best Marketing Innovations jury teams were announced.
We remind you that submitting entries deadline is April 20. If you want to compete for the title of the best in the advertising world and demonstrate the diversity of lives you`ve lived in projects, we advise you to hurry up and register on the site.