19th Kyiv International Advertising Festival organizing committee is in rush to inform nexy jury team, which will evaluate Film and Out of Home contests. Tony Hardcastle, Global Creative Director, MullenLowe London, UK,  was chosen as a Chairman.
Among the judges there are international experts who go beyond simple decisions, confirm their status, winning awards at the most prestigious festivals, and inspire others to take more care.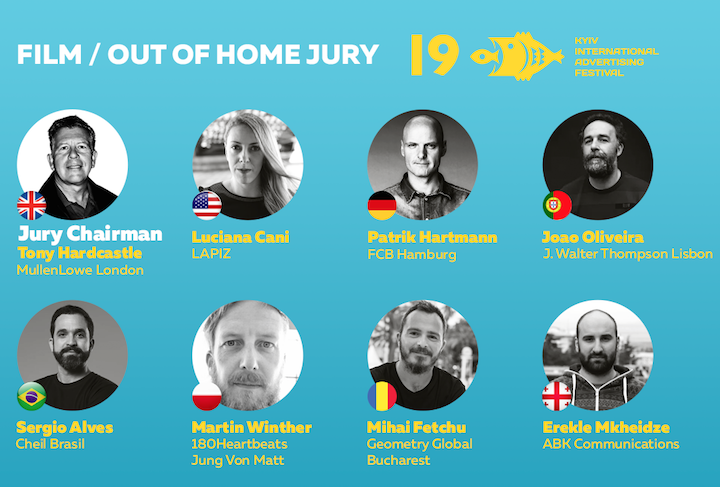 Jury Chairman – Tony Hardcastle, Global Creative Director, MullenLowe London, UK
Luciana Cani, SVP, Executive Creative Director, LAPIZ, USA
Patrik Hartmann, Creative Director, FCB Hamburg, Germany
Joao Oliveira, Creative Director,  J. Walter Thompson Lisbon, Portugal
Sergio Alves, Executive Creative Director, Cheil Brasil, Brazil
Martin Winther, Creative Director, 180Heartbeats Jung Von Matt, Poland
Mihai Fetchu, Creative Director, Geometry Global Bucharest, Romania
Erekle Mkheidze, Executive Creative Director, ABK Communications, Georgia
Jury in Film contest will evaluate advertising videos creativity and innovations.  
An updated contest program of the 19th KIAF, except traditional OOH advertisement offers the participants of the Out Of Home contest Craft categories, in which the main criteria during case evaluation are quality of performance and craftmanship. Also there is new category INNOVATION IN OUTDOOR, in which there are innovative use of the environment for the brand massage is used.  
Entry deadline – 20 April.
KIAF – is a chance to prove yourself in the international arena, to please colleagues and to surprise competitors with your victory. Dare for more with each new task, because for the advertiser "New Challenge –  New Life"!
Details, entries requirements and all needed information are available on the kiaf.com.ua website.