The Organizing Committee of the 19th Kiev International Advertising Festival is pleased to present a team of experienced international market experts who will evaluate the cases submitted to the Print & Publishing, Radio & Audio and Advertising Campaigns contests.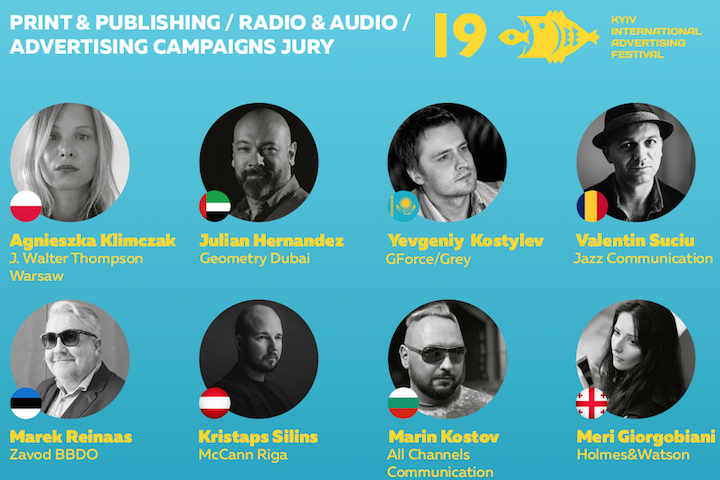 Meet Print & Publishing, Radio & Audio and Advertising Campaigns Jury:
Marek Reinaas,

Creative Partner, Zavod BBDO, Estonia

Agnieszka Klimczak,

Creative Director, J. Walter Thompson Warsaw, Poland

Julian Hernandez,

Executive Creative Director, Geometry Dubai, OAU

Yevgeniy Kostylev,

Creative Director, GForce / Gray, Kazakhstan

Valentin Suciu,

Creative Director, Jazz Communication, Romania

Kristaps Silins,

CEO and partner, McCann Riga, Latvia

Marin Kostov,

Executive Creative Director, All Channels Communication, Bulgaria

Meri Giorgobiani,

Art Director, Holmes & Watson, Georgia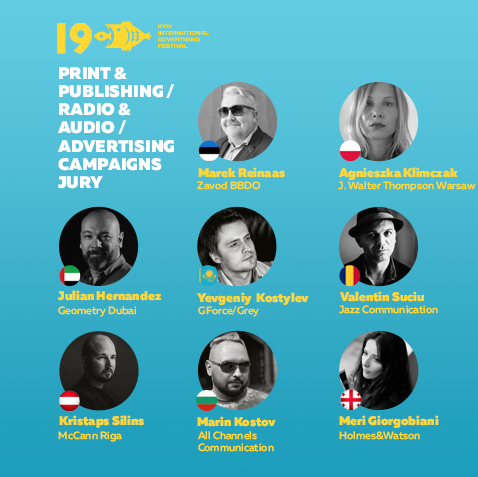 In the Print & Publishing Contest, judges will evaluate works in such categories as FMCG, consumer goods and services, media, entertainment and leisure, social advertising and charity, as well as Print & Publishing Craft. Participants, who will submit works in the Radio & Audio contest must demonstrate great sound ideas. A brand message should be transmitted through audio expertise and with audio innovation or a wonderful oral story. Category can include the use of audio tools in digital channels. Judges will also evaluate campaigns using one or more elements of a single media channel and campaigns using a set of different media channels (at least 2 different media) in the Advertising Campaigns competition.
The Organizing Committee has already announced jury members of Media, Branded Content & Visual Storytelling contests. Other judicial teams will be announced in the near future. We draw your attention to the fact that new members can be added to the teams, so watch out for the news!
We remind you that the entry deadline is on April 20th. Do not be afraid to take risks! It's time to entrust your case to the leaders of the advertising industry from abroad, registering it on the festival`s website kiaf.com.ua.