Janez Rakušek, jury member of Advertising campaigns contest, Executive Creative Director of Luna\TBWA from Slovenia will give a speak at the seminar program for Ad Black Sea 2016 with the topic "Live disruptive or die mediocre". Join the participants of Ad Black Sea 2016, accreditation for the program of the Festival will be open until 31 of August.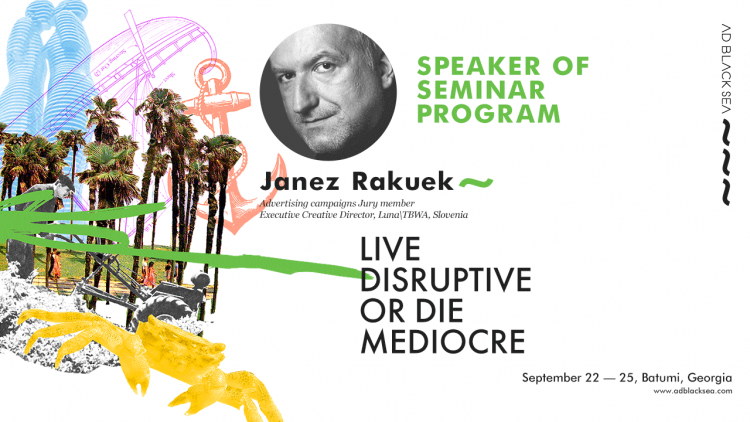 Janez Rakušek, Executive Creative Director, Luna\TBWA, Slovenia
Janez Rakušček joined the advertising world in 1989 as a student at the Academy for Theatre, Radio, Film and Television at University of Ljubljana, Slovenia. After graduation he started his career as a copywriter at agencies Magenta, Luna and Studio Marketing/JWT, where in 1995 he was promoted to Creative Director and later to the position of Director of Creative Department. He joined Luna\TBWA as a Creative Director in 2001 and currently holds the position of Executive Creative Director. He works with important national and international clients (BMW, Si.mobil – part of Telekom Austria Group, Ljubljana Dairy, Delo Newspaper, Krka Pharmaceuticals, Beko Home Appliances, Lidl Retail Stores, Laško Brewery, Unicredit bank, Japan Tobacco International). In his career he received many international as – well as national advertising awards (Cannes Lions, Epica, Golden Drum, Slovenian Advertising Festival, Effie). In 2011 he received the prestigious Advertising Personality Award which is awarded by Slovenian Advertising Chamber.
"The communication landscape is changing rapidly, new channels, new media and new communication ecosystems are emerging daily. As Sir John Hegarty once put it, there has never been as many exciting opportunities for creative communication as in present. However, the navigation through unpredictable and unchartered seas became more and more demanding. Only the brave succeed, only the pirates can lead; the navy just follows. That's why we at \TBWA believe in Disruption. Disruption is not a model but a way of thinking, it's our DNA. It's the way to a bigger share of success in the future for marketers and brands. In short presentation we'll share ideas and case studies on disruptive concepts and communications.", – Janez Rakušek commented the topic of the report.
Everyone who wishes to participate in seminars program, please pass online registration on the website, which is open until August 31. If you have any questions, please contact organization committee [email protected] (Kate Grabovska) and [email protected] (Olga Podgorskaya).