The organizing committee of Ad Black Sea is pleased to announce the names of members of Creative Jury. The jury team which consists of recognized experts from international creative industry will assess works of categories such as Film & Radio and Print & Poster. The Chairman will be Folker Wrage, CCO of Havas Worldwide from Switzerland. Judges include representatives of leading agencies from countries such as Switzerland, Romania, Russia, Estonia, Georgia and Bulgaria.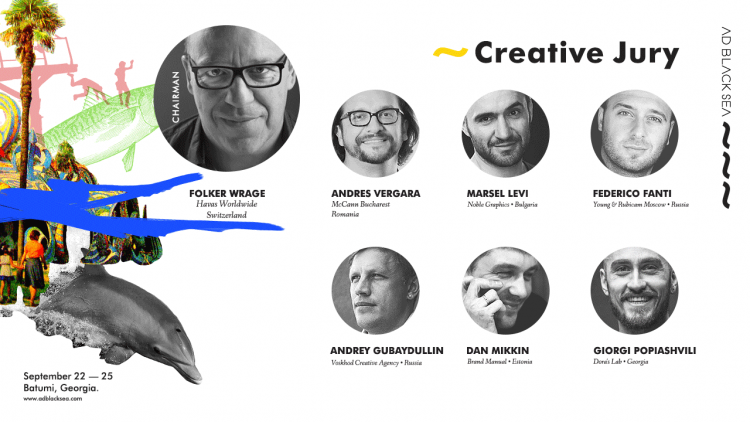 Folker Wrage, CCO of Havas Worldwide, Switzerland
Folker was destined to be a copywriter – studied psychology, worked as a flight attendant, DJ, and journalist. Even worked the grill at a burger place for a while. He was lucky to pick Ogilvy Frankfurt as his first agency, and smart enough to stay for ten great years. Went on to Leo Burnett, Saatchi, Publicis, McCann. Moved to Switzerland, then to Istanbul, and back to Zurich. Happy to be CCO at Havas Switzerland. Member of the German ADC, judge at a one or the other festival, including Cannes Lions. Won plenty of awards, too. Alumnus of the Berlin School of Creative Leadership. Passionate speaker and lifelong learner. Still DJing, always writing, relentless optimist. Proud to be European.
The Creative Jury team of Ad Black Sea includes:
Chairman – Folker Wrage, CCO, Havas Worldwide, Switzerland
Andres Vergara, International Executive Creative Director, McCann Bucharest, Romania
Andrey Gubaydullin, Executive Creative Director & Co-owner, Voskhod Creative Agency, Russia
Dan Mikkin, Partner, Brand Manual, Estonia
Federico Fanti, Executive Creative Director, Young & Rubicam Moscow, Russia
Giorgi Popiashvili, Creative Director & Founder, Dora's Lab, Georgia
Marsel Levi, Creative Director, Noble Graphics, Bulgaria
Earlier, organizing committee has published Advertising Campaigns, Media and Digital & Mobile Jury teams, all information can be founded on festival website.
Key dates
Entry & Pass deadline: 31 August 2016
Festival dates: 22 – 25 September 2016
Awards Ceremony: 25 September 2016
If you have any questions, please contact organization committee: [email protected] (Kate Grabovska) or [email protected] (Olga Podgorskaya).
Looking forward to see you in Batumi at Ad Black Sea 2016!