Organizing committee of Ad Black Sea presents jury members and the Chairman of Media contest. This jury team will be headed by one of Belgium's most awarded creatives – Koenraad Lefever, Creative Director, Duval Guillaume.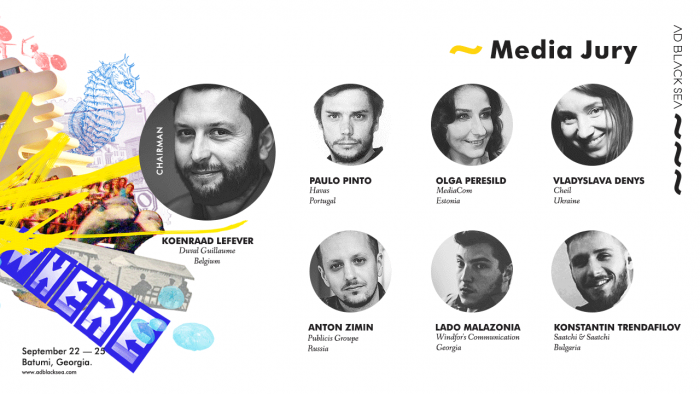 Koenraad Lefever graduated Applied Arts in Brussels. After wasting some time at smaller agencies, Lefever moved on to McCann-Erickson and started to win some national awards. A short stay at LDV United before he joined the now renowned agency Mortierbrigade that only existed a few months then. After five years he made the switch to Duval Guillaume Modem after a few years he became Creative Director together with his team mate Dries De Wilde. Koenraad worked for clients like Carlsberg, TNT Broadcasting, BBC Worldwide, Durex, Coca-Cola, Nike, Opel, Ford, Saab, De Standaard, Humo, Opvoedingslijn and USG People. Lefever is one of Belgium's most awarded creatives. His work was awarded over a hundred times at major creative festivals such as CCB, Eurobest, Cannes Lions, NYF, Effie, Oneshow, Clio, D&AD and others. He didn't win any significant prizes in golf, icehockey or snowboarding yet.
The Media jury of Ad Black Sea includes:
Chairman – Koenraad Lefever, Creative Director, Duval Guillaume, Belgium
Paulo Pinto, Executive Creative Director, Havas, Portugal
Olga Peresild, Chief Executive Officer, MediaCom Estonia, Estonia
Vladyslava Denys, Creative Director, Cheil Ukraine, Ukraine
Konstantin Trendafilov, Creative Director, Saatchi&Saatchi Bulgaria, Bulgaria
Lado Malazonia, Chief Strategist, Windfor's Communication, Georgia
Anton Zimin, Executive Creative Director, Publicis Groupe, Russia
The team of judges will evaluate the best creative media solutions of TV, radio, print and outdoor advertising, digital platforms, special events, non-traditional and ambient media, sponsorship, promotion, unconventional advertising, guerilla media and other integrated media.
Organizing committee will announce the jury team and Chairmen of Creative, Film & Radio Craft, Design, Digital, so keep in touch with Ad Black Sea 2016.
Dates
Entry & Pass deadline: 31 August 2016
Judges will gather of live in Batumi: 22-23 September, 2016
Festival dates: 22 – 25 September 2016
Awards Ceremony: 25 September 2016