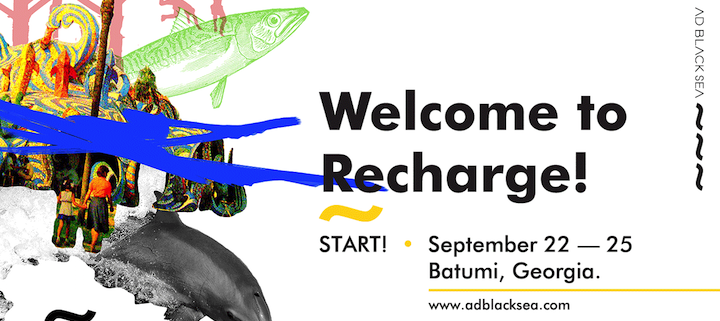 Ad Black Sea 2016 international advertising festival announces the start – the contest program is now accepting entries. The Festival will be held on September 22-25, 2016 in Batumi, Georgia. According to the organizers this festival pretends to the title of the most temperamental and hospitable festival in the world. Over 400 delegates from 15 countries attend four days of seminars program presented by worldwide industry experts, contest exhibition and screening, networking and cultural events and Awards Ceremony.
The festival is a regional meeting place for creative community. The festival gathers creators and other representatives of advertising agencies from the Black Sea countries – Georgia, Ukraine, Russia, Turkey, Romania, Bulgaria and other countries of Europe and Asia.
It is a platform of networking opportunity and social interaction with colleagues for sharing ideas and planning bright projects ahead, the opportunity to meet people not only online, to discuss all the charm and challenges of advertising profession.
In this year Ad Black Sea contest program consists of 7 contests including 55 categories:
FILM & RADIO
PRINT & POSTERS
FILM & RADIO CRAFT
DESIGN & BRANDING
DIGITAL & MOBILE
MEDIA
ADVERTISING CAMPAIGNS
Entries will be judged by world-renowned advertising professionals from Europe, Ad Black Sea region and other countries to award the best in advertising. There are 6 jury teams:
CREATIVE JURY
FILM & RADIO CRAFT JURY
DESIGN JURY
DIGITAL JURY
MEDIA JURY
ADVERTISING CAMPAIGNS JURY
Ad Black Sea 2016 program on September 22-25 can be divided into several components. An educational program with seminars that will bring together the industry's key players, inspirational talks, big ideas, big names, interactive sessions, hands-on workshops, contest screenings designed to bring creativity to life. It is platform to discuss actual questions in advertising, perspectives/forecast of advertising/creativity development, future of advertising/creativity, and review of world successful ad campaigns.
Cultural program will have excursions and daylight events for knowing Georgian hospitality and evening program will include daily parties and evening events for delegates with opportunities of making new contacts or bumping into an old friend. The culmination of the festival will be Ad Black Sea Awards Ceremony with rewarding the best projects/ideas.
Ad Black Sea became a new meeting place for inspiration and new knowledge for professionals in advertising and communications.  Especially it can be proved by festival location – Batumi. Ancient history and modern architecture, the beautiful Black Sea, amazing sunsets and sunrises, its historical port, serene botanical garden, Seaside Boulevard, Georgian hospitality and excellent Georgian cuisine – all those things make Batumi as the best place for creative people to recharge their mind.
The festival is presented by Association of Communication Agencies of Georgia together with All-Ukrainian Advertising Coalition.
Anyone who was lucky enough to attend the Ad Black Sea 2015 in Batumi for sure remembers thousands of bright moments. How it was in 2015, you can see in the video report.