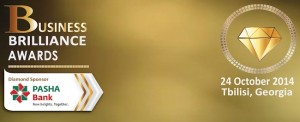 BOC Global Events Group is delighted to be back to Tbilisi for the 2nd year running, hosting the annual Business Brilliance Award Ceremony with an exclusive Business Development Forum for progressive Leaders, Marketing and Communications Seniors of Georgia, and its neighbouring countries, to find the tools to work smarter and keep up with the fast changing marketplace.
This International Event is packed with insights from World-class Speakers and some of the leading innovators, who will put a fresh perspective on the current drivers of the dynamic business world.
The Event focuses on showcasing examples of good practice adopted by successful brands during their journey.
What to expect:
The Forum is designed to avoid monotone lectures and contextual PowerPoint slides, offering instead fast learning, dynamic experience, access to the case studies and first hand expertise from some of the major organisations.
As the world around us is fast reshaping and evolving, we are delighted to equally develop and redesign the Idea of a "Standard Forum", by eliminating Down Time and immersing the participants into full day of intensive learning and highly enjoyable experience; followed by the Business Celebration of the Year.
The Business Brilliance Award, together with the leading Media and Press will celebrate some of the most innovative Businesses, as well as Personal achievements across various industries and sectors; Placing THE BEST under the ultimate spotlight, rejoicing the winning contributions made by individuals or by teams, in this fast developing region.
People's Choice Business of the Year category is now Open for Voting!
The polls are now open to vote for your favourite business operating in a region to win the People's Choice Award Category at the Business Brilliance Awards 2014. Support your favourite brand by casting your vote on-line today! Share your vote on Facebook and Twitter, and encourage friends and family to vote too. You can only vote for one nominee for People's Choice Awards, but don't forget to scroll down to see everyone in the category. Then simply click to Vote! http://boc-uk.com/awards/business-brilliance-awards-geo/vote/
Join us on 24th October to see how you can help determine the future for your function and reshape your Business!
For full list of speakers, judges and awards categories, please request you copy of the brochure.: http://www.Brilliance-Awards.boc-uk.com 
Event Diamond Sponsor – PASHA Bank
Business Brilliance Awards is organised by British company – BOC Global Events Group, supported by most of Georgian Media:
Event Marketing partner: Marketer.ge
General Media Partner: Palitra Media
Official Radio: Radio Imedi. Palitra Radio
Official TV Channel: TV3
Official Online TV: Palitra TV, ITV.ge
Media Partners: BPI, Caucasus Business Week, Ambebi.ge, iMarketing.ge, Presa.ge, People.ge, Droni.ge, Forbes Georgia, Netgazeti.ge, Commercial Times. MyVideo.Ge, News.ge