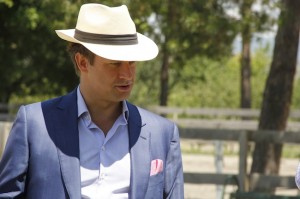 Consumers are able to order Chateau Mukhrani products from the website or FB page. Within 24 hours after ordering wine will be delivered without any extra fee at your preferred address. Marketer offers an interview with Petter Svaetichin the CEO of JSC MGeorgia.
M: Thanks for taking the time to talk to us. Please tell us something about you and how you came to be in Georgia?
I am Swedish but have a very international background with MBA degree from ESSEC in France and Cornell University in the US with a focus on hospitality. My countries of work are ranging from the UK, France, Switzerland, Germany, Sweden, Russia etc.
Since 2004 I work for Marussia Beverages BV on a number of projects including Siberian Vodka, distribution of alcoholic beverages and opening of a Georgian restaurant in Paris. In 2005 I was asked to represent Marussia as a director in our joint venture with our Georgian partners in the Château Mukhrani project and in 2011 I moved here to take on the operational position of CEO. Last year I moved to MGeorgia, the holding company of Château Mukhrani and GWS.
M: What are Chateau Mukhrani short and long term goals?
In the short term we aim to finish the rebuilding of the Château where the interior work is still pending. In the long term we wish to be recognized as the center for cultural, historical and wine heritage for the whole Caucasus region. Concerning the wines the ongoing target is to always improve both in quality and consistency.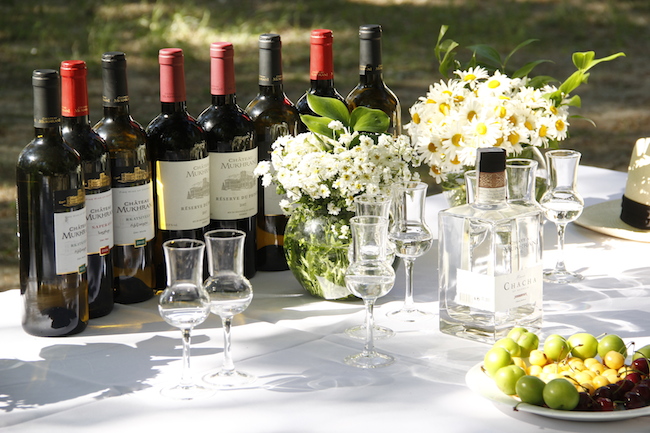 M: How your brand wines are performing on local and global market? (which ones are most popular and least)
Château Mukhrani wines are now recognized as the most prestigious wines in Georgia and lately we have managed to be listed with both Marks&Spencers in the UK and Chez Nicholas in France. It goes without saying that we export to the standard CIS countries but also to Israel, France, United Kingdom, China and USA. Our best-selling wine is Goruli Mtsvane, which epitomizes the idea of Château Mukhrani in the sense of the variety being endemic to the Mukhrani region and perfect for its' "terroir".
M: Why have you introduced new Free wine delivery service? 
This is common in Western Europe and the US. It is not yet happening in Georgia but should since the infrastructure with lifts not always available and at times difficult roads. We believe that providing this extra service free of charge goes hand in hand with our promise to always offer the best both in terms of quality and service. Imagine, you are expecting guests tomorrow evening, or there is public holiday coming soon, Christmas, Easter or any other important day, and you need wine that day, you just enter the internet, our Facebook page or webpage: www.chateaumukhrani.com, enter wine delivery section where is indicated whole range of Château Mukhrani wines and it's prices, choose your favorite wines and send notification. You will be contacted shortly by our wine studio representatives and wines will be delivered without any extra fee at your preferred address.
M: How are local wine lovers responding to the idea of free wine delivery?
We have only just launched this service and expect it to take some time before consumers realize the full potential of being able to save time, avoid carrying unnecessary goods as well as being able to calmly chose products from the comfort of their sofa.