The fourth international advertising festival Ad Black Sea announces the next selection. We invite creative community to Batumi, Georgia on September 20-22 to celebrate creativity together. Contest program is opened on the adblacksea.com website and entry deadline is on 31 July.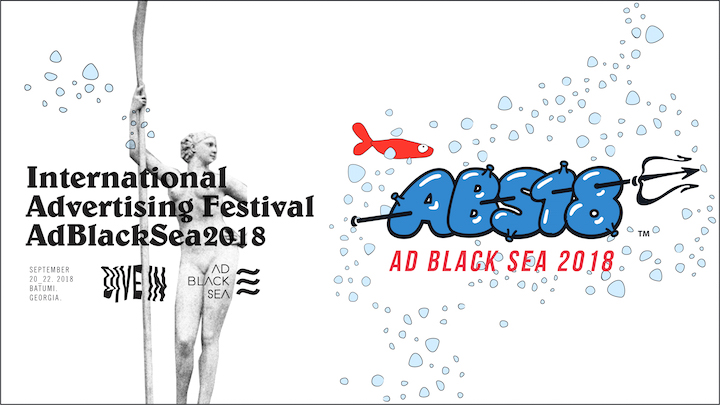 This year we invite festival participants to dive with us: in to the creativity, in to the contest program, dive in seminars and workshops, dive in knowledge, in to the networking, dive in parties, fun, dive it to the sea, the world of advertising and all of those unforgettable moments that we experience on Ad Black Sea each year.
Ad Black Sea 2018 is now opened for entries in 10 contests and about 100 categories.
Participators are welcomed to submit their creative cases into the contests:
FILM
FILM CRAFT
PRINT & PUBLISHING
OUT OF HOME
RADIO
DESIGN & BRANDING
DIGITAL & MOBILE
ADVERTISING CAMPAIGNS
MEDIA
BRANDED CONTENT & VISUAL STORYTELLING
Entries will be evaluated by 3 jury panels according to Contests:
FILM, FILM CRAFT, ADVERTISING CAMPAIGNS, RADIO & AUDIO JURY
PRINT & PUBLISHING, DESIGN & BRANDING, OUT OF HOME JURY
DIGITAL & MOBILE, MEDIA, BRANDED CONTENT & VISUAL STORYTELLING JURY
3 independent jury teams will evaluate submitted cases to the contest program. They will gather together in Batumi on 19 and 20 September to select the best creative solutions above the submitted cases. Among the jury members, there are world-renowned opinion leaders in advertising area, which already have a huge judging experience on the greatest international festivals and contests. Jury teams include chairmen, founders, CEOs, creative, art, and executive directors of international communications agencies. In their arsenals, there are numerous valuable international awards including Cannes Lions, New York Festivals, ADC*E, Epica, Awwwards, and others.
It is worth noticing that Ad Black Sea is included in the ACA Creativity and Craft Rating of Georgia 2018. It is also recognized by ADC*E as a national award in Georgia.  It gives right for Georgian winners of Ad Black Sea to enter into ADC*E Awards 2018. Besides, Ad Black Sea 2018 winners will have a unique opportunity to appear in the next AdForum Business Creative Report.
The festival will be held on 20-22 September in Batumi, Georgia. The program of the festival includes seminars and workshops from the leaders of the international advertising market, Ad Black Sea 2018 Awards Ceremony, rich entertainment & networking program and unforgettable experience.
Ad Black Sea for the four years earned a reputation of the open-minded creativity gather-together place for people of advertising, where cultures, point of views and creative bold ideas are mixed. Exclusive Georgian traditions with the hospitality create a wonderful atmosphere and emotions to dive in.
Important dates:
The 1st entry deadline: 15 July 2018
Festival dates: 20-22 September 2018
Awards Ceremony: 22 September 2018
If you have any questions, please, contact organization committee (0038044) 490-90-30 or via mail festival@vrk.org.ua – Kate Grabovskaya, project@vrk.org.ua – Olga Podgorskaya.
Ad Black Sea is a perfect place to celebrate the creativity, recharge your mind, and dive into the special atmosphere.
See you on the Ad Black Sea 2018!