International jury team of Film&Radio contests will be headed Eduardo Marques Executive Creative Director, 180LA, USA.  
Eduardo Marques was ranked number 13 in Business Insider's Top 30 most creative people in advertising 2016 list. He also helped 180 to be featured on Ad Age's Agency A-List as the #2 Stand-out Agency, as well as Creativity Online's Creative Innovators list. He is the creative behind projects like UNICEF's "Unfairy Tales" series, University of Phoenix "WE RISE" campaign, Airbnb's 'Birdhouses,' Hellmann's Recipe Receipt, Airbnb #SochiProblems, Coke Happiness Refill and Whopper Face.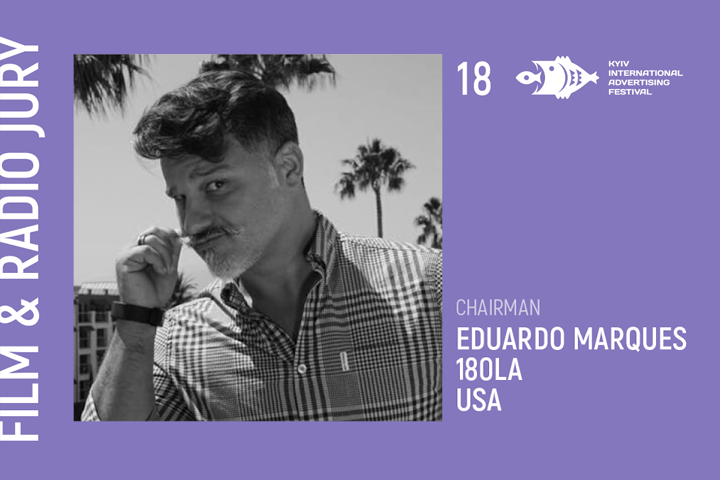 He is ECD at 180LA, and has led it to be the #1 Awarded Agency in the TBWA Network Worldwide, with 10 Cannes Lions and one Grand Prix for Good in 2016. As a former CD at Pereira O'Dell SF and CD of Special Projects at Ogilvy Brazil, Eduardo has worked in traditional advertising agencies, Digital and Content agencies, accumulating different disciplines during the 21 years of his career.
Eduardo was ranked #1 most awarded Creative Director based on the Cannes Report 2012. Among some of his 200+ international awards, Eduardo has 27 Cannes Lions, 10 London Awards, eight D&AD Pencils, 11 Clios, six One Show Pencils, and GPs at El Ojo, Wave and FIAP (Latin America's biggest festivals).
Eduardo also judged Awards festivals like the One Show, Golden Drum (President of the Jury), Google Creative Sandbox (Brazil), El Sol (Spain + Ibero-America), CCSP (Creative Club of Sao Paulo), Premio Abril (Brazil), JADE (Central America), APAP (Peru) and CCMG (Creative Club of Minas Gerais).
He is Brazilian, but don't ask him to play soccer or dance samba. Instead, ask him to prepare and drink some Caipirinhas.
Deadline for entries of the 18th KIAF is on April 21, so hurry up and register on the contest website.
If you have any questions, please contact organization committee: 0038 (044) 490-90-30 or via mail festival@vrk.org.ua – Kateryna Grabovskaya.