Folker Wrage, Chairman of Creative Jury, CCO at Havas Worldwide, Switzerland, will perform with the theme of "The benefits of virtue – and how to deal with the asshole factor" at the seminary program of International Advertising Festival Ad Black Sea, which will take place on 22-25 September in Batumi.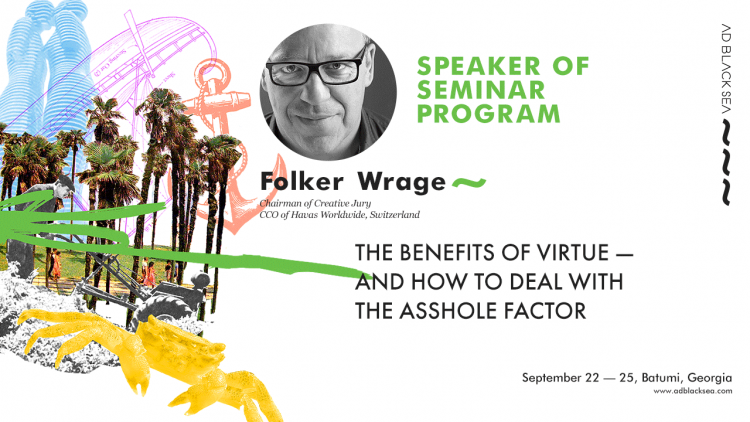 "Virtue may sound like something ancient, but it isn't. Virtue is what will separate the successful from the rest in the future. It's what turns us into civilized human beings. It's the root of all the flashy things consultants and managers love to talk about, like culture, and values. This lecture will tell you why virtue can turn an organization into be a better place that produces better work and gets better financial results. And to make it a little more entertaining, we'll also talk about the opposite of virtue – vice. And about assholes. It will be fun, trust me." –  Folker Wrage commented the speech.
Please note that entry deadline has been extended until September 9 and accreditation for festival program is available on website adblacksea.com until September 15. All who wish to join Ad Black Sea 2016 after closing online registration can come to Batumi at the festival dates and can pass accreditation at registration desk.
If you have any questions, please contact organization committee: [email protected] (Kate Grabovska) or [email protected] (Olga Podgorskaya).
Ad Black Sea 2016: welcome to recharge!