The first Radisson RED hotel in Eastern Europe has arrived in Tbilisi, Georgia. Situated in a 100-year-old former post office building on the iconic Davit Aghmashenebeli Avenue, Radisson RED Tbilisi blends culture, history, and contemporary design. The hotel is also a culinary destination thanks to its modern and cozy Posta Restaurant & Bar which fuses Georgian, Asian, and international flavors, and serves as a social hub with unique style, dynamic atmosphere, and friendly service.
Georgia is known for its traditional architecture, gastronomy, the arts, and its stunning location where the Caucasus Mountains meet the Black Sea beaches. The country's capital, Tbilisi reflects the city's long, complicated history. Its diverse architecture encompasses Eastern Orthodox churches, ornate art nouveau buildings, Soviet Modernist structures, and a historic, cobblestoned old town. Monuments such as the Bridge of Peace, the Holy Trinity Cathedral of Tbilisi, and Narikala Fortress, a reconstructed 4th-century fortress, which overlooks the city, as well as museums and theaters such as the Georgian National Museum, National Gallery, Lado Gudiashvili Exhibition Hall, Marjanishvili Theatre, Vaso Abashidze State New Theatre, Rustaveli Theatre, and the Opera and Ballet Theatre of Tbilisi, can all be explored by day or night as the city comes alive in lights.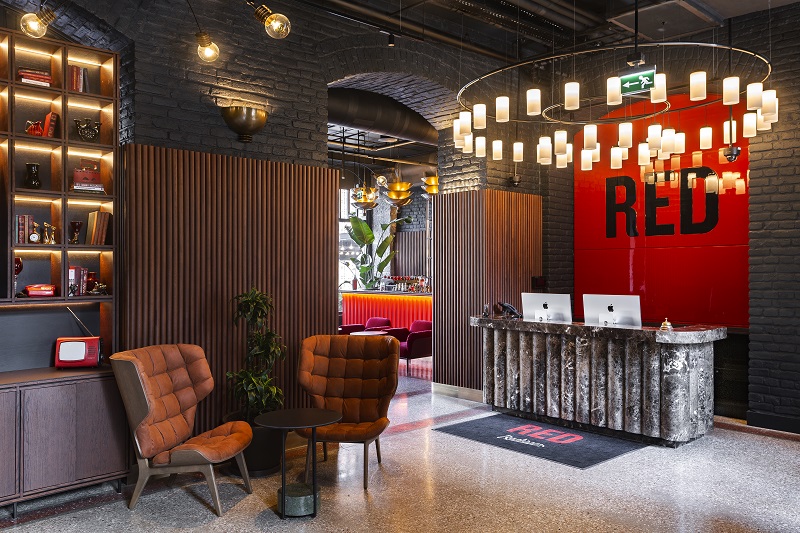 The new Radisson RED Tbilisi's magnificent home, a historic post office building, dates back to the 1920s and features an imposing façade with wrought iron balconies and modern, black, Crittal-like windows. It is ideally located close to the many important cultural institutions in the city, making it the perfect base for immersing oneself in the local culture. Radisson RED Tbilisi offers guests a unique opportunity to experience the city's rich history, art, and gastronomy within the hotel itself, and its surrounding area. The 4-storey hotel includes 111 rooms spanning from standard to junior suites. All feature Radisson RED's signature design focused on cutting-edge solutions. Here the guests can find a series of paintings inspired by historic Tbilisi by the local artist, the balconies with the unique Tbilisi design "Shushabandi", a traditional Italian courtyard and other decorative details that are the signature of the Radisson RED brand such as red telephones. Radisson RED Tbilisi also has three fully equipped meeting rooms for up to 70 people, perfect for events and private gatherings, as well as a courtyard that accommodates up to 500 guests.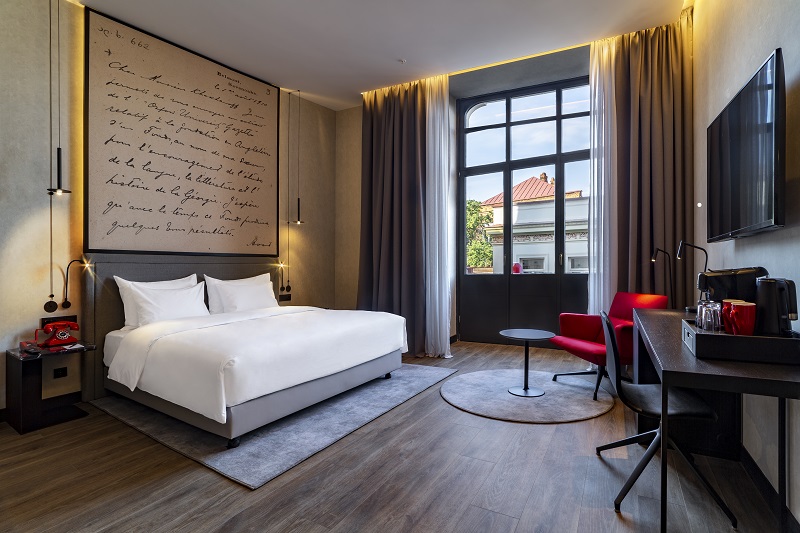 The ground floor of Radisson RED Tbilisi is home to Posta Restaurant & Bar which features traditional Georgian, Asian, and international flavors. Posta is the hotel's social hub where guests and locals meet, work, eat, and drink. On warm days, guests can dine al fresco in the courtyard, relax or catch up with friends, order snacks and drinks, and soak up the local surroundings. The restaurant's team is led by Tina Vashakidze, a teacher at the Georgian Culinary Academy, the well-established cooking school in Georgia, along with her experienced colleagues from the same academy.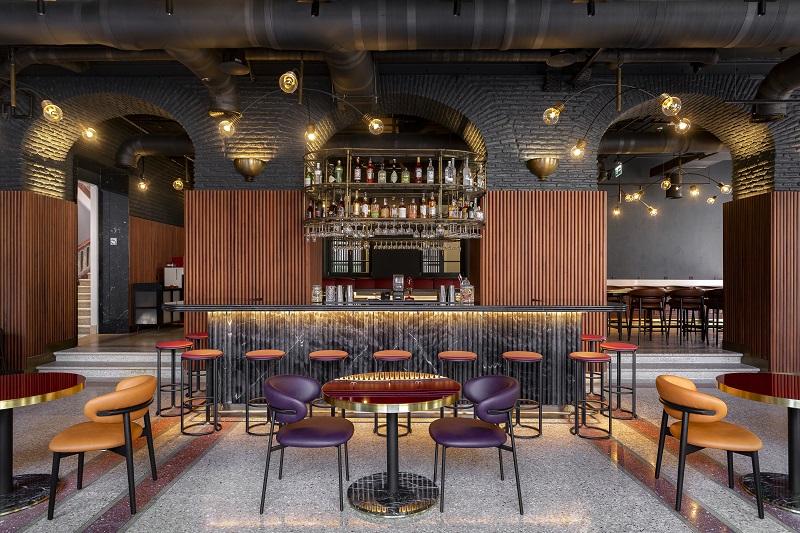 Antoine Moubarak, Regional Director 8Turkey, Georgia, Azerbaijan & Eastern Europe, Radisson Hotel Group, says: "The Radisson RED brand and Tbilisi are a perfect fit. The hotel is located on one of the main avenues in the city which has a vibrant atmosphere and energy. The historic former post office building has undergone an incredible renovation in the lead-up to the opening of Radisson RED Tbilisi. Our team has worked very hard to create an unforgettable experience for locals and visitors, and we look forward to welcoming them through our doors."
Husnu Tayanc, Radisson RED Tbilisi, says "When I first saw the plans for Radisson RED Tbilisi, I fell in love with the building's history and the opportunity to create a lifestyle experience for guests to feel the energy and vibrant atmosphere in Tbilisi. I would like to thank the investment group, Telegraph LTD, namely Kniaz Daseni, for bringing up this unique project to Tbilisi. That was hard work keeping all the originals of the historic renovation, investing over 28 MLN USD which also created super opportunity for the local employment."
MEDIA CONTACT:
ELENA NAUMENKO, Area PR and Communications Manager, Eastern Europe & Georgia, Radisson Hotel Group
SOPHIE CLARKE, Global Director Social Media & Consumer PR, Radisson Hotel Group
***
RADISSON HOTEL GROUP
The Radisson family of brands can be found around the world in more than 120 countries, with currently over 1,700 hotels in operation and under development. Radisson Hotel Group operates the business in EMEA and APAC with over 1,150 hotels in operation and under development. The international hotel group is rapidly growing with a plan to significantly grow its portfolio. The Group's overarching brand promise is Every Moment Matters with a signature Yes I Can! service ethos.
The Radisson family of brands portfolio includes Radisson Collection, art'otel, Radisson Blu, Radisson, Radisson RED, Radisson Individuals, Park Plaza, Park Inn by Radisson, Country Inn & Suites by Radisson, and prizeotel brought together under one commercial umbrella brand Radisson Hotels.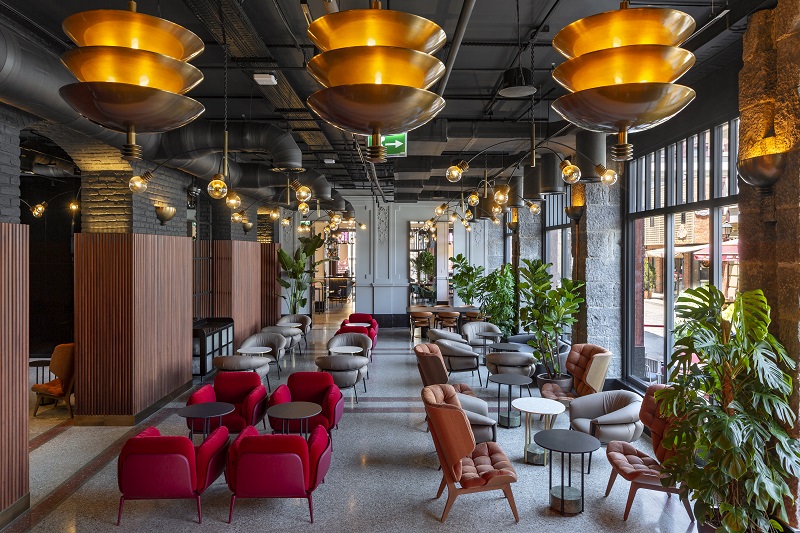 Radisson Rewards is Radisson Hotel Group's loyalty program, which delivers an elevated experience that makes Every Moment Matter. As the most streamlined program in the sector, members enjoy exceptional advantages and can access their benefits from day one across a wide range of hotels in Europe, Middle East, Africa, and Asia Pacific.
Radisson Meetings provides tailored solutions for any event or meeting, including hybrid solutions placing guests and their needs at the heart of its offer. Radisson Meetings is built around three strong service commitments: Personal, Professional and Memorable, while delivering on the brilliant basics and being uniquely 100% Carbon Neutral.
At Radisson Hotel Group we care for people, communities and planet and aim to be Net Zero by 2050 based on the approved near-term Science Based Targets. With unique solutions such as 100% carbon-neutral Radisson Meetings, we make sustainable hotel stays easy. To facilitate sustainable travel choices, all our hotels are becoming verified on Hotel Sustainability Basics.
The health and safety of guests and team members remain a top priority for Radisson Hotel Group. All properties across the Group's portfolio are subject to health and safety requirements, ensuring we always care for our guests and team members.
For more information, visit our corporate website. Or connect with Radisson Hotels on:
LinkedIn | Instagram | Twitter | Facebook | YouTube
ABOUT RADISSON RED
Radisson RED is an (upper) upscale hotel brand that presents a playful twist on the conventional. The brand injects new life into hospitality through informal services where anything goes, a social scene that's waiting to be shared and stylish public spaces with standout designs to inspire our guests. Radisson RED hotels are designed to fit the needs of our guests by giving them endless opportunities to tune in and out switching effortlessly between business and pleasure. Guests and professional business partners can enhance their experience with Radisson RED by participating in Radisson Rewards, an international loyalty program offering exceptional benefits and rewards.
Radisson RED is a part of the Radisson family of brands, which also includes Radisson Collection, art'otel, Radisson Blu, Radisson, Radisson Individuals, Park Plaza, Park Inn by Radisson, Country Inn & Suites by Radisson, and prizeotel brought together under one commercial umbrella brand Radisson Hotels.
For reservations and more information, visit our website. Or connect with Radisson RED on:
LinkedIn | Instagram | Twitter | Facebook | YouTube
[R]